Teaming Up for Hurricane Harvey Recovery in the Coastal Bend
Blue Cross and Blue Shield of Texas link
Hurricane Harvey rapidly became a Category 4 storm before making landfall over San Jose Island, Texas, on Aug. 25, 2017 – the strongest hurricane to hit the Texas coast in more than 50 years and the wettest on record in the United States. At landfall, winds were over 130 mph and peak rainfall reached as much as 70 inches. It caused an estimated $125 billion in damages, one of the costliest tropical cyclones to date. An estimated 300,000 structures were damaged or destroyed in Texas alone. Six of the 41 counties designated for individual assistance by the Federal Emergency Management Agency (FEMA) were in the Coastal Bend: Aransas, Bee, Kleberg, Nueces, Refugio and San Patricio.
Our Partnership
In February 2018, BCBSTX and Coastal Bend Disaster Recovery Group (CBDRG) announced their partnership to assist with recovery efforts across the disaster area. Overall, the investment funded 20 projects, including 14 home replacements, five home repairs and one home demolition. Four families in the City of Gregory were able to have their manufactured homes replaced as part of the grant. "We are forever thankful to CBDRG and their partners for their work here in Gregory," Celestino Zambrano, Mayor of Gregory, said. "There is a great need in our city, and we hope to accomplish our goals by helping those in need one step at a time."
Meet The Flores'
As Hurricane Harvey gained strength in the Gulf of Mexico, Alfredo and Angie Flores listened to the warnings and evacuated their Gregory home to ride out the storm. Upon return, they were shocked to see their home of 40 years still standing; however, the storm took out an entire side of the structure. In an effort to salvage the home, Alfredo did his best to patch up the damages so they could have a dry place to live.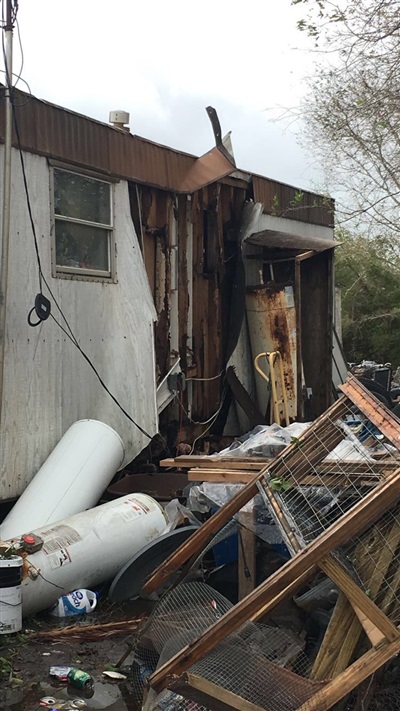 Images of the Flores' home after Hurricane Harvey hit
Soon after, CDBRG Case Manager Roschelle Jones contacted the Flores' and began working to get them any possible assistance. When Jones shared the news that they were approved to receive a new manufactured home, the couple was in utter disbelief. "We just couldn't believe it," Alfredo said. "Roschelle did so much. She was out here late at night and would return early in the morning. We couldn't have done any of this by ourselves." In addition to their brand-new home, CBDRG also partnered with Mennonite Disaster Service, who built the ramp and porch for the family. The Coastal Bend Food Bank also stocked the pantry and refrigerator with perishable and non-perishable food items.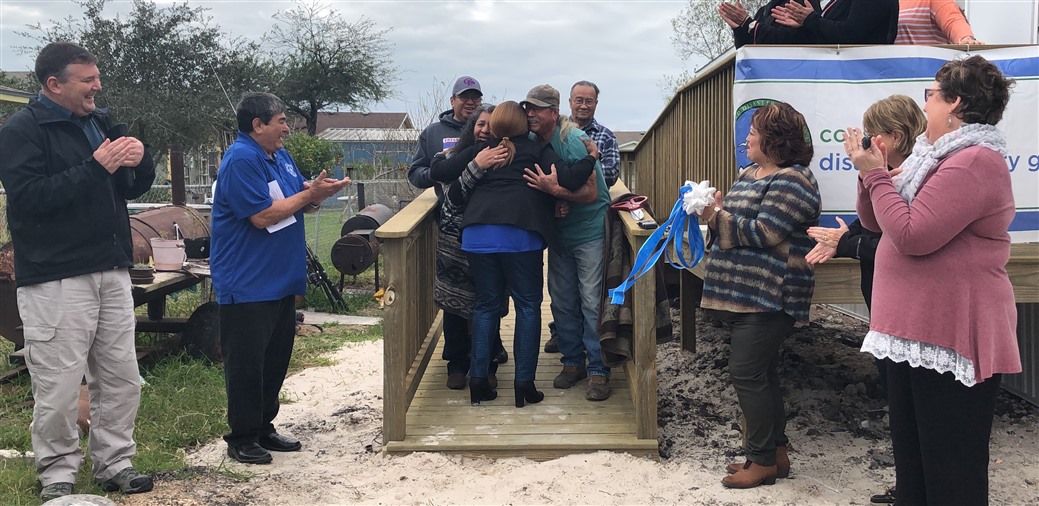 The Flores receive their new home with the help of CBDRG and their partners
"We have been blessed with many generous donors and hard-working volunteers, but it cannot not be understated the impact of Blue Cross Blue Shield of Texas support to the Hurricane Harvey recovery effort, especially in small cities or towns like Gregory, Tivoli, Port Aransas, and Rockport," Warren Phipps, CBDRG Executive Director, said. "The generous grant early in the recovery effort not only allowed us to timely help families struggling to recover, but also inspired other businesses to join the effort. The Coastal Bend will forever be grateful for the support received from organizations like Blue Cross Blue Shield of Texas, who responded quickly to help those who lack the means to recover from destruction of Hurricane Harvey,"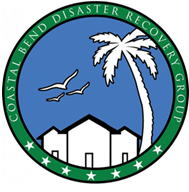 About Coastal Bend Disaster Recovery Group (CBDRG)
Established in 2015, the CDBRG is a volunteer-based coalition created to address the unmet needs of Coastal Bend area residents affected by disaster. CBDRG is a State/FEMA recognized long-term recovery organization and is registered with the State of Texas as a nonprofit 501(c)3 corporation. They are a collaborative network comprised of non-profit, faith-based, private sector and government organizations currently working together as partners in recovery. Following each disaster, CBDRG's board of directors evaluates whether to respond and initiate recovery efforts.
Disaster recovery organizations continue to work diligently in the region to provide much-needed assistance to Hurricane Harvey survivors and to help rebuild even stronger communities. The board of directors, leadership, staff and numerous supporters of CBDRG remain focused on three primary commitments following the destruction caused by Hurricane Harvey:
To help families to return their homes to safe, secure, habitable conditions.
To keep the community together.
To bring resiliency to the community.
Volunteer groups and individuals can sign up to join CBDRG efforts at www.coastalbenddrg.org/volunteeror by emailing volunteers4cbdrg@gmail.com.